The thousand camel festival, held in Gobi Desert, is a celebration of the endangered two-humped camel (Bactrian camel) and the role it plays in the lives of Gobi's nomads. Bactrian camels were domesticated thousands of years ago to carry goods and people across Asia. Adapted for desert conditions, the camels can carry 200 kg on long journeys, withstand +40 degree summers and -40 degree winters and when nourished, can go without eating and drinking for weeks. Their humps act as fat reserves for energy. In 2016, the festival assembled over 1,100 camels and broke a Guinness World Record for largest camel festival. The festival has been organized for nearly 20 years by local herding communities under the purpose of protecting two humped Bactrian camels and increase income and productivity of local nomads through tourism and raise awareness of Mongolian younger generation to their own unique culture and heritage and being proud of it and pass down to generation.
The festival attracts foreign and local travelers, culture lovers and adventure seekers in glittering frozen winter land.
Camel races, polo competitions on camel, as well as performances of traditional Mongolian music and dance, are among the highlights of this annual event.
Travelers on this tour will be given opportunity to purchase traditional clothes and boots. The temperature in March can be below freezing and travelers will need to bring heavy winter jackets, gloves and hats to keep warm, dressing in layers is highly recommended.
Thousand Camel festival tour

(10 days)

Arrival (March 2 ) 
Arrive at any time. Depending on your arrival time city tour can be organized. Check out notice in your hotel lobby or ask at reception for time and place to meet up group for welcome meeting. Your guide will go through your itinerary and answer your questions. Afterward we will enjoy first taste of Mongolia in one of famous restaurant of Ulaanbaatar.
Ulaanbaatar is fast-growing modern city with more than 1.3 million habitants. City sightseeing includes Bogd Khan's Winter & Summer Palace, a series of beautiful traditional buildings in which the eighth Living Buddha and the last king lived. It is now a museum displaying fascinating artefacts and costumes associated with the last king as well as his collection of stuffed animals.
We will stop at the Gandantegchinlen Monastery. It is the largest and most important monastery of Mongolia. We will scroll through the different monasteries and see the magnificent statue of Migjid Janraisig, an 82-food high statue gilded in gold and covered with silk cloths.
We will finish city tour with Zaisan hill to have a view of whole Ulaanbaatar. The city sightseeing tour takes about 4 – 5 hours.
(Hotel D)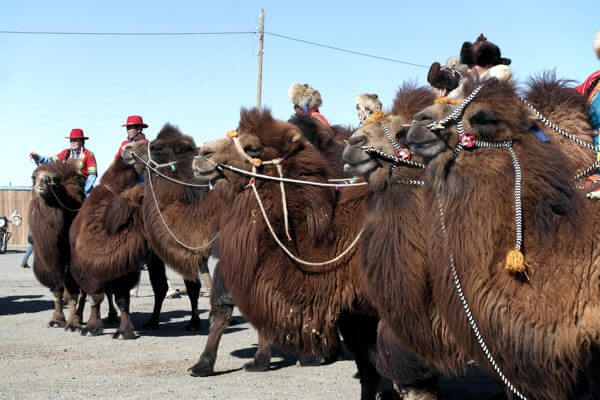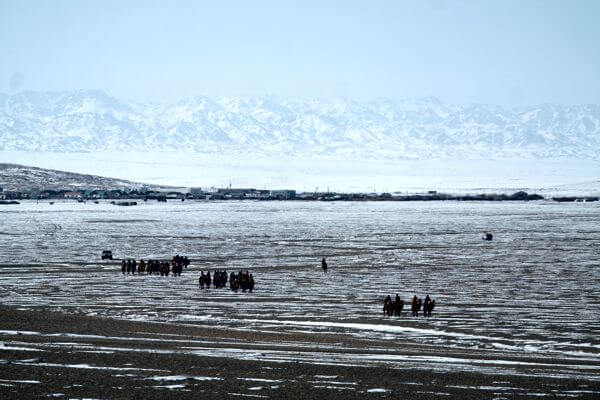 Eagle Festival March 3
This is the third largest eagle hunting festival which takes place not far from Ulaanbaatar. The aim is to bring this beautiful cultural heritage closer to the capital city and the making attendance more accessible to local population. The other 2 eagle festivals take place in September and October in remote region 3 hours' plane flight. The proud eagle hunters dressed in thick fur and traditional attire celebrate their heritage and compete to catch small animals such as foxes and hares with specially trained golden eagles, showing off the skills both of the birds and their trainers. (Nowadays hunting live animals is not practiced during festival anymore instead eagles chase fox skin dragged by its owner on horseback.). Prizes are awarded for speed, agility and accuracy. Festivities which incorporate an opening ceremony, impressive parade, cultural exhibitions, demonstrations and handcraft followed by sporting activities and competitions. Dressed in full eagle hunting outfits and mounted on groomed decorated horses, the hunters compete for the different awards of best-looking eagle and owner, best hunting eagle, best eagle locating its owner from distance etc…
(Hotel B, L, D)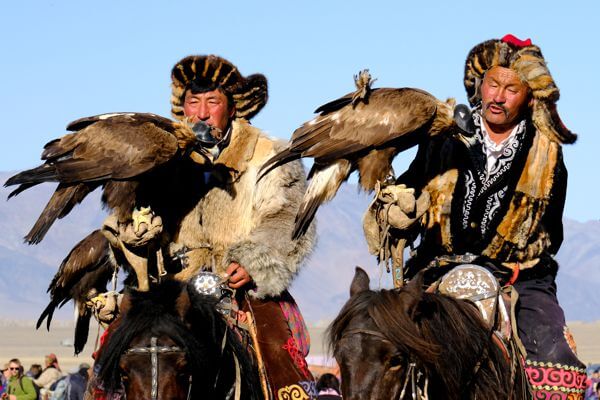 Eagle Festival – Drive to Gobi Desert March 4
After breakfast in our hotel we will have short drive out of Ulaanbaatar and see more off eagle festival. The hunters come especially from Western Mongolia, Olgii province with their birds to compete. It is spectacular view.
After early lunch we will drive to Dalanzadgad, southern Gobi province capital. The Gobi Desert measures over 1,610 km from southwest to northeast and 800 km from north to south and stretches over Mongolia and China. It occupies an arc of land 1,295,000 km2 in area, making it fifth largest in the world and Asia's largest. Much of the Gobi is not sandy but is covered with bare rock.
The Gobi is a cold desert, with frost snow on its dunes during the winter months. Besides being quite far north, it is also located on a plateau roughly 910–1,520 meters above sea level, which further contributes to its low temperatures. An average of approximately 194 millimetres of rain falls per year in the Gobi. Additional moisture reaches parts of the Gobi in winter as snow is blown by the wind from the Siberian Steppes. These winds cause the Gobi to reach extremes of temperature ranging from –40°C in winter to +50°C in summer. We will arrive in Dalanzadgad late evening and check in to local hotel.
(Hotel B, L, D)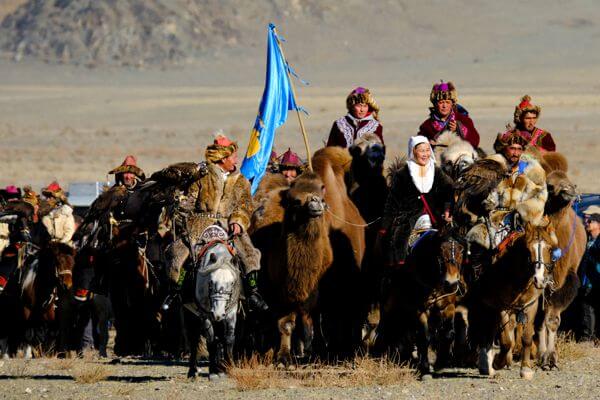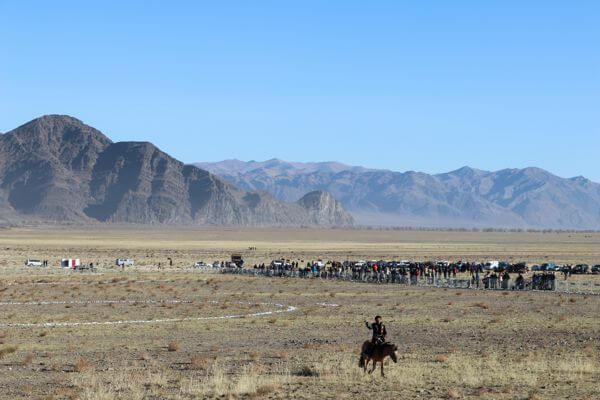 Bayanzag or Flaming Cliff March 5
Today our drive will take us to Bayanzag also known as the "Flaming Cliffs" is the worldwide renowned place where palaeontologist Roy Chapman Andrews found dinosaur bones and eggs. The surrounding landscape is a beautiful combination of rocks, red sand and scrubs. Here we will spend some time exploring the cliffs. We will arrive in Bulgan village at our host family. You will see & feel the excitement of whole village getting prepared for 2 days' festivals: nomads arriving majestically on camels with their families in their winter clothes to village. Wolf, fox, marmot and hare fur clothes are everywhere to be seen. Enjoy evening next to fire over hot drinks and few shots of vodka as locals do and witness the hot topic such as whose camels will win race etc…
(Family stay B, L, D)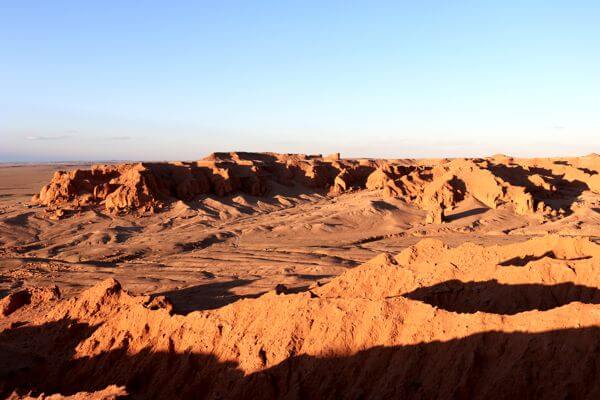 Camel Festival  March 6
After breakfast we will go to the opening ceremony in front of village administration house where herders with their camels gather and the mayor of village will launch the festival. Camels arrive in all directions on foot, bearing bundled-up riders wedged between their two humps. Attend opening ceremony. Camel parade. The festival is about honoring the camel which occupies a central role in traditional lifestyle of desert herders for centuries. In village school herders sell handcrafts and camel wool products mostly operated by nomad ladies. As well local food and drinks (fermented camel milk) are must to taste. Perfect place to shop souvenirs to bring back home memories of camel festival and Mongolia.  
(Family stay B, L, D)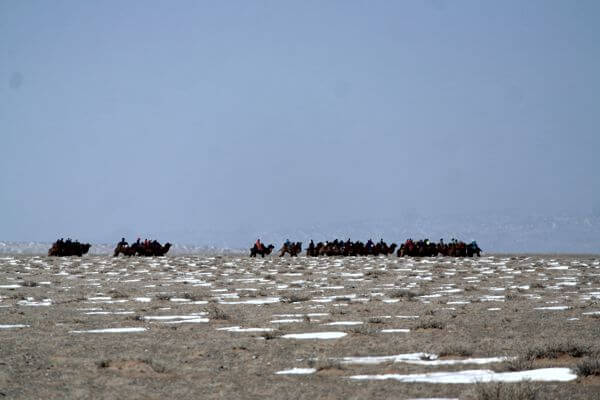 Camel Festival  March 7
Activities and competition will unfold today with 15 km long camel race, camel polo and different tasks where herders and camels get challenged: loading whole Ger on camels and unload. Experienced camel riders will compete lassoing young male camels. Once camels lassoed, contestant will ride and train it. The interesting and thrilling part is to watch how men will try to stay on, while angry, wild camel run wild trying to throw the rider off. Awards will be given to the most beautiful dressed couple with decorations, utensils and jewels and to most beautiful lavishly bedecked camel. In the evening village school children will held a concert for guests. Not to miss they are cute.
(Family stay B, L, D)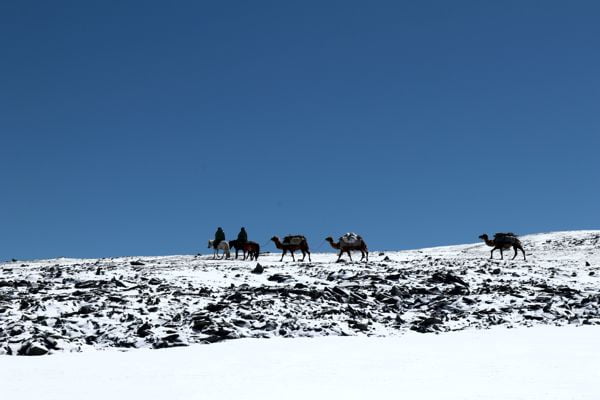 Khongoryn Els.  March 8
After a good morning breakfast, we will drive 150 km westwards to the Khongoryn Els. These are Mongolia's largest sand dunes. Those impressive dunes of 275 meters high in some places, stretch from East to West over more than 100 km. behind the sand dunes we will see the impressive black rocky mass of the Sevrey Mountain. Here we will arrive at two humped camel breeding family and get introduced to their simple, humble, hard yet amazing way of life. Gobi Desert being the coldest desert of the world with cold wind blowing pretty much throughout whole autumn, winter and spring without any shelter exposed in plains demands extreme survival method of living. Gobi nomads are well-known for their hard working quality in whole Mongolia. Time to taste camel milk products. Spend evening with our hosts tasting fermented camel milk & local brewed vodka from camel milk and share their incredible life story.
(Family stay B, L, D)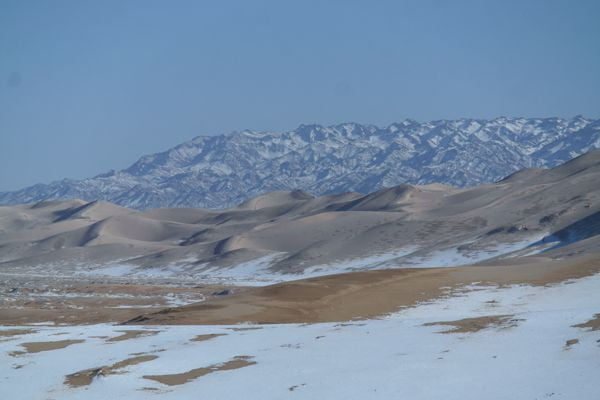 Drive to Dalanzadgad  March 9
After breakfast once morning cold and chill over, we will spend some time riding camels along the dunes.
Afterwards we will drive further to the direction of Gobi Gurvan Saikhan national park we will drive through the beautiful gorges of the imposing Altai Mountain Chain. We will pass through the Yoliin Am and the Dungenee Am both located in the Gobi Gurvansaikhan National Park. Ancient rivers carved those valleys and gorges.
We may catch a glimpse of the wild Argali sheep, the Ibex, the desert gazelles or the Golden Eagles.
In the evening we will arrive in Dalanzadgad and stay overnight in local hotel.
(Hotel B, L, D)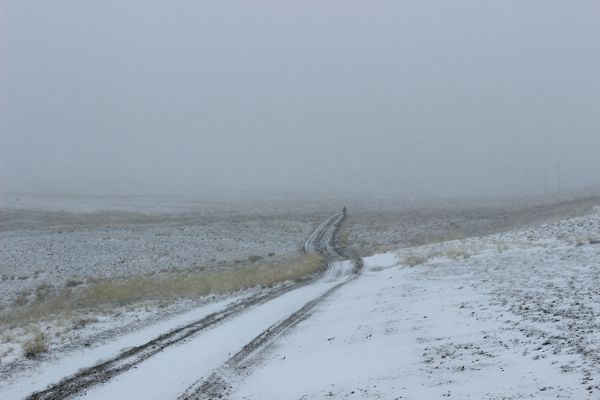 Drive to Ulaanbaatar  March 10
Today we will drive back to Ulaanbaatar. In the evening we will share memories of our trip over final farewell dinner at one of the city's best restaurant.
(Hotel B, L, D)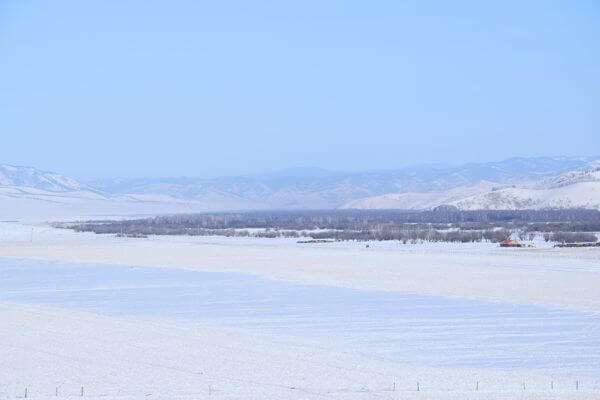 Departure. March 11
You may depart any time.
Or extent your winter adventure to nearby national parks such as Gorkhi Terelj National Park and Khustai National park.
(B)