Celebrate Mongolia's mighty winter on an ancient frozen lake. The Ice Festival is one of the main attractive winter festivals which offers unique chance to sense and explore the fascinating and mysterious corner of the world during frozen winter and is held on Khovsgol Lake. Measuring about 130 km long and up to 40 km wide, the dark blue lake is at the base of the permanently snow-capped Khoridol Saridag mountains and offers mesmerising view.  Being the country's largest freshwater reserve (70 % of the country's total) believed to be over a million years old and affectionately called "Dalai Eej" or Mother sea by Mongolians. Braving brutal temperature and winter freeze that sometimes falls below -20 degrees', early March locals gather on Khovsgol lake to celebrate long, cold season. For two days exciting activities unfold such as horse sleigh race, ice sumo, archery competition, ankle bone shooting game, elaborate ice sculpture contest, ice skating, tug of war, dog sledding and many more.
Rare occasion to witness the tradition and lifestyle of Mongolian reindeer herders who descend from taiga to lake, while the local shamans perform ritual with fire-burning ceremony.
Travelers on this tour will be given opportunity to purchase traditional clothes and boots. The temperature in March can be below freezing and travelers will need to bring heavy winter jackets, gloves and hats to keep warm, dressing in layers is highly recommended.
Ice Festival Tour

(7 days)

Arrival  (February 27)
Arrive at any time. Depending on your arrival time city tour can be organized. Check out notice in your hotel lobby or ask at reception for time and place to meet up group for welcome meeting. Your guide will go through your itinerary and answer your questions. Afterward we will enjoy first taste of Mongolia in one of famous restaurant of Ulaanbaatar.
Ulaanbaatar is fast-growing modern city with more than 1.3 million habitants. City sightseeing includes Bogd Khan's Winter & Summer Palace, a series of beautiful traditional buildings in which the eighth Living Buddha and the last king lived. It is now a museum displaying fascinating artefacts and costumes associated with the last king as well as his collection of stuffed animals.
We will stop at the Gandantegchinlen Monastery. It is the largest and most important monastery of Mongolia. We will scroll through the different monasteries and see the magnificent statue of Migjid Janraisig, an 82-food high statue gilded in gold and covered with silk cloths.
We will finish city tour with Zaisan hill to have a view of whole Ulaanbaatar. The city sightseeing tour takes about 4 – 5 hours.
(Hotel L, D)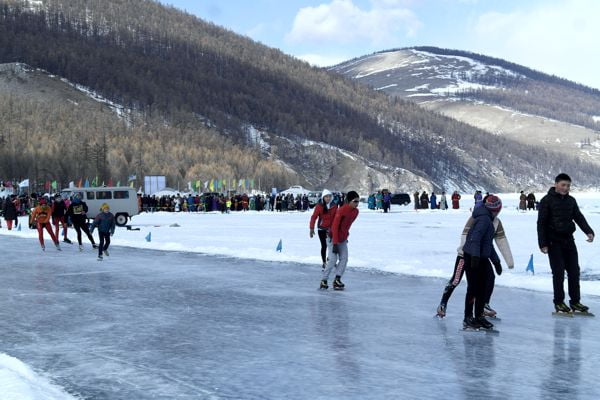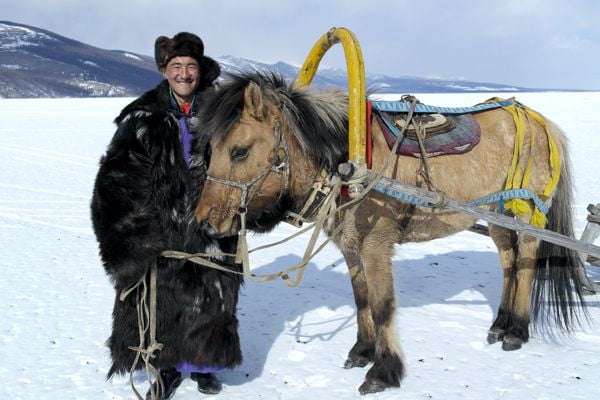 Moron, Northern Mongolia (February 28)
Today we will have a long driving day 800 km long drive to northern Mongolia province town. We will experience Mongolia's mountain region landscape under snow. We will pass several provinces and major industrial towns of Mongolia Darkhan, Erdenet and Bulgan.
After arriving in Moron we will have a rest and enjoy evening in our hotel.
(Local hotel B, L, D)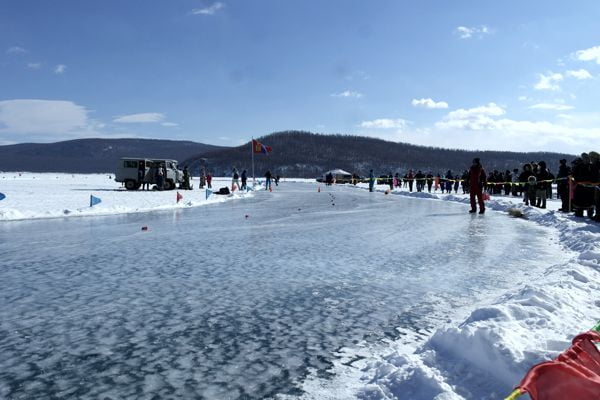 Khovsgol Lake (March 1)
After breakfast continue on to Lake Khovsgol, the Blue Pearl of Mongolia. 2 hours driving. Mongolian blue pearl, the Khovsgol Lake. It is a huge 2.760 square km alpine lake (130 km in length and 40 km in width), surrounded by mountain chains of more than 2.000 meters high, thick pine forests and lush meadow with grazing yaks and horses in summer. More than 100 small rivers and streams feed the lake with crystal clear water. Water exits the lake through only one river, the Egiin, whose waters eventually reach the Baikal Lake. The lake contains about 1.5% of the world's fresh water (excluding water contained in the icecaps). The lake and rivers are full of fish. Around a dozen species of fish inhabit the lake and rivers. The most well-known are the sturgeon, grayling, lennok, salmon, taimon, etc.
We spend afternoon hiking along the lake shore, skating on the thick ice of the lake. Optional activities such as horse riding, horse-drawn sledding, dog sledding and visit to nomad family will be organized. Locals dressed in thick fur, colorful traditional costumes on dark blue ice of lake with magnificent backdrop of snow covered mountains will be a life time opportunity for photographers.
(Ger camp B, L, D)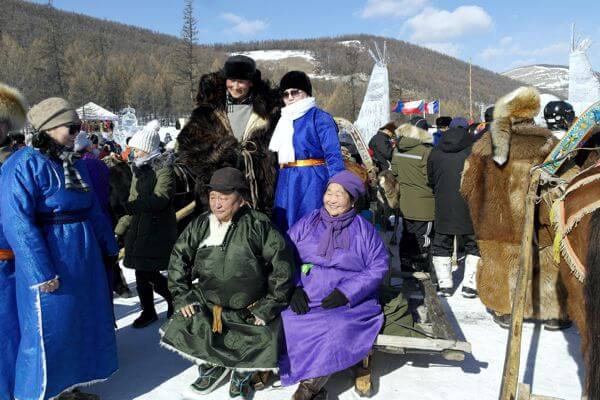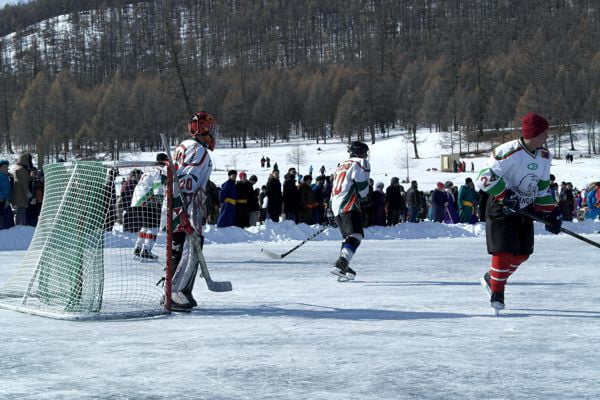 Ice festival (March 2)
After breakfast we will attend the ice festival opening ceremony (beautiful, colorful traditional dresses representing all different tribes and ethnic groups of Mongolia) followed by skating event. You can take a part on skating competition. Non skaters can enjoy competition of horses' sleighs driven by local nomads. Before the start, horses will exhibit in front of people and guests have possibilities to bet on the winner. Other activities are organized such as ice creation competition, ankle bone shooting. We will witness as well local shaman rituals and traditional performance by local singers and dancers. Elaborate ice sculptures are on display.
In the afternoon we will drive to mountains to visit reindeer breeding family and see their unique nomadic traditional lifestyle. Evening bonfire.
(Ger camp B, L, D)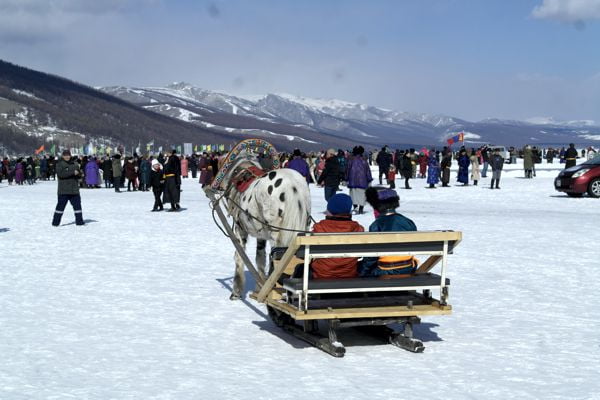 Ice festival ( March 3)
After breakfast you will see different competitions and activities organized on the ice. Ice sumo wrestling, horse sledding, reindeer sledding, and driving jeeps on ice, rope pulling on ice, skating and a lot more.
Hear the sound of cracking ice under your feet. Closing ceremony and winners of completions will be announced and awarded. After closing ceremony, we will be driving back to Moron.
(Local Hotel B, L, D)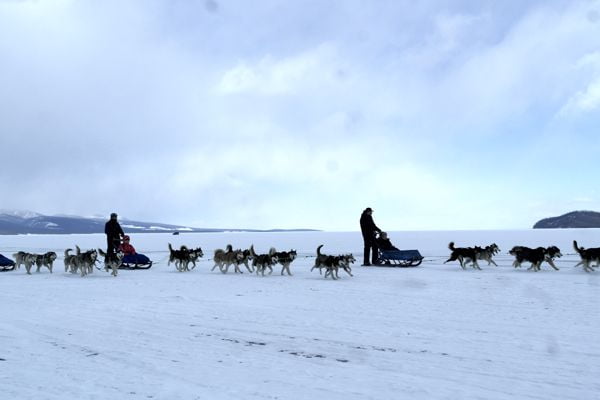 Ulaanbaatar  (March 4)
After breakfast we will set on the road to Ulaanbaatar. In the evening we will share memories of our trip over final farewell dinner at one of the city's best restaurant.
(Hotel B, L, D)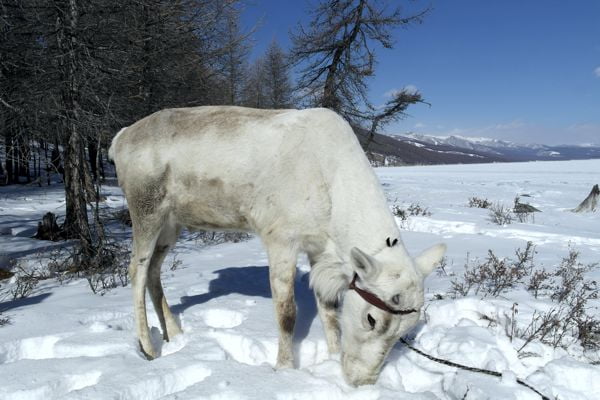 Departure. March 5. 
You may depart any time.
Or extent your winter adventure to nearby national parks such as Gorkhi Terelj National Park and Khustai National park.
(B)