Mongolian dot Travel is a widely recognized tour operator in Mongolia established by a group of passionate travel professionals with more than a decade of experience in the travel sector.
We pride ourselves in guaranteeing the best quality, high standard service. From luxury private tailor-made tours with comfortable Ger Camps stay, to basic accommodation in the home of nomadic families, to overnights in tented camps pitched up on a picturesque spots, we offer comfortable overland cultural experiences as well as unique outdoor active adventure tours on horses, camels, yaks, bikes, motorcycles, ATV and on foot. Our outdoor experiences go as far as paragliding, kite buggy in the Gobi desert, kite surfing in the numerous Mongolian lakes, fishing and kayaking in remote areas and we are the only agency offering 4×4 self-driving adventures.
For those traveling on the Trans-Mongolian train, we offer a truly unique experience of nomadic culture during your short stay in Mongolia.
Our guides, drivers, cooks and camp assistants are carefully selected. They are a group of professionals and passionate travel companions who will make your stay in Mongolia a once in a lifetime experience.
Our enthusiastic team is committed to offer exciting and adventure trips while encouraging responsible travel style, supporting local communities and engaging local herders.
We have spent years refining our service, improving our vehicles, training our staff and maintaining our equipment.
While in the capital city, you will stay in friendly, well maintained hotels. Attend cultural attractions, art shows and absorb the dramatic shift from nomadism to modernism, mingled in the capital of Mongolia.
Travelling with us to Mongolia will assure you a memorable travel experience as varied as Mongolia's rich history and natural wonders.
Hope to see you soon in Mongolia.
             We give a true thoughtful meaning to your travels aiming to create once a life-time memories and satisfaction. Our mission is to provide high quality products and services tailored trips to meet each and every one of our travellers satisfaction. Our itineraries centred on off beaten track adventure with mixture of interaction with locals, encounters with wild nature and unique nomad culture. We pride ourselves in providing only the best service, always putting our travellers first and foremost.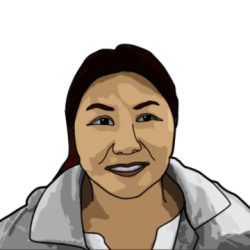 Byambaa
Assistant Logitical Manager