The origin of Naadam festival is closely related to our history and its nomadic lifestyle culture. Mongolians have rich military history especially known for great conquest during our great Chingis Khaan ruling and his successors. The Mongol empire success and unity of legendary Chingis or Genghis Khan's army was its sophisticated and disciplined structure.
The warriors were selected and sent to battle field on their strength, movement and flexibility shown in their wrestling skills, their eye-sight, agility, precision in their archery skills, their patience, bravery, endurance exposed in horse training and horse racing skills. Moreover, before and after major battles, the three main sports-wrestling, horserace and archery were exercised as an organized event, which later adopted its present name-Nadaam.
Under Manchu suppression ruled Mongolia from late 17th early 20th century as a part of their policy to further weaken Mongolia, huge number of Mongolian men were converted to monks therefore banning men to practice any physical training and decreasing mass events. However, Mongolians managed to preserve their traditional sports by organizing small scale Naadam and events involving wrestling, archery and horseracing on various little ceremonies such as worshipping sacred areas, wedding and religious rituals.
After declaring its dependence later in 1920's, Mongolia started Naadam as nationwide celebration honoring the victory of People's Revolution and forming the independent nation of Mongolia. From that time Naadam became national celebration and holiday.
Nowadays its celebrated as the largest celebration and a national holiday in a colorful, vibrant festival manner lasting 3 days. The major festival highlights are the Opening and Closing ceremonies attended by the State Heads- the President, Prime Minister, and the Parliament speaker as well the leading artists and performers.
Many regions, provinces and villages set up their own festival dates differently depending on the anniversaries of their administrative areas, religious rituals, worshiping scared places etc….Almost everyone is dressed in amazingly colorful traditional costumes called 'Deel' during the festival.
Three main games contested in festival are wrestling, archery, horse racing.A part of these three main games, many other traditional events are organized among others nationally loved ankle bone shooting game competition.
Khuushuur, fried pancake filled with meat is also inseparable part of the festival, the favorite food of the festival crowd. And of course Airag-the fermented mare milk, national beloved drink.
Many other cultural events are as well organized throughout festival days at various different places.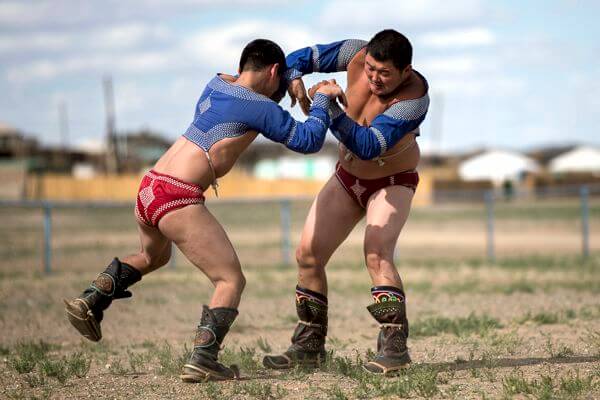 Wrestling is one of the three main sports of the Naadam Festival in Mongolia. Surely linked country's emptiness and vastness, Mongolian wrestling has its unique characteristic such as no weight limit, field limitation, expanded time and many tricks.
Wrestlers wear short handmade, beautifully embroidered jackets and traditional boots to emphasize their strong physics and protect their legs and arms. The boots help keep the feet stable in the grass. Maintaining balance is crucial because wrestler loses his footing and another part of his body touches ground loses and eliminated from competition.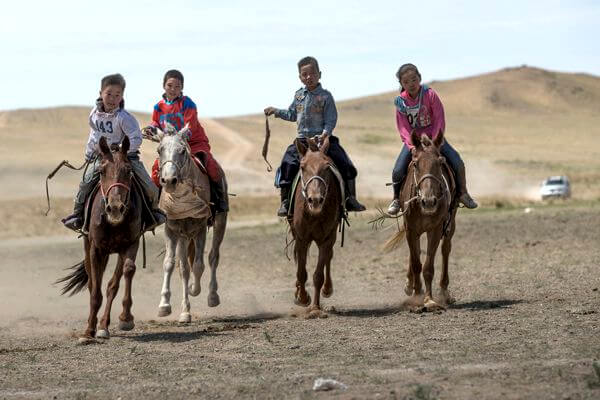 Mongolia has world's longest and toughest horse race officially recognized in the World Guinness Records. Horses take central part of nomad's life in this land of open vast space. Mongolians practice horse race pretty much whole year around except winter months. However, the largest and the most exciting one happens during Naadam Festival.  Horses race according to their age, classified to six categories. Distance of race varies in each category: two-year-old horse race 10-12 km for instance, stallions race for 23 km on average and seven-year-old horse race for longest distance of all ages for 25-26km.
Horse jockeys are children aged between 5 and 12 years. Due to long distance horses have to cover jockeys preferred to be light, small and of course experienced. Horse jockeys not only race horses, they are responsible for motivating, encouraging their horses by singing song called "Giingoo" and raising their spirits during race.
Both horses and jockeys go through intense training for several months before Naadam. Horses are given special diet, treated tenderly and cherished. Bond between horses, jockeys and trainers are very special and emotional. In the race, horses and jockeys come in first 5 places are rewarded and revered. Mongolians believe that touching the winning horse and its sweat bring good luck.

Archery has been exercised among Mongolian for centuries. According to some sources, its primitive version was originated during the New Stone Age. Ancient people used their version of bow and arrows for hunting and then later this became weapon during battles. During Mongol Great Empire, men were encouraged to practice archery to be prepared for battles and nowadays archery has been developed as sports.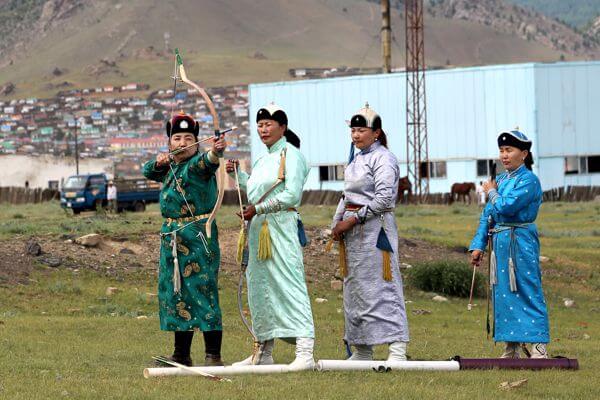 Naadam Festival

(4 days tour)

Arrival: July 10
Arrive at any time. Short city tour can be organized. At 15 pm we will go to Chingis, the main square to see Deeltei Mongol Festival (parade of Traditional Mongolian Costume Festival). The square will be filled with exquisitely dressed locals representing different tribal and ethnic groups of Mongolia with their traditional dresses and garments.
After dinner we will return to square to watch ceremony of Great Nine Banners and enjoy an open stage concert at square.  Get into full festival mood.
(Hotel D)

Stadium: July 11
After breakfast head out to National Stadium. Before taking your seat in stadium, opt to walk around stadium and get soaked in festival atmosphere. Many stalls and tents are erected selling food, drinks, souvenirs, cashmere. Try some local delicacies. 
At 11 am Naadam officially opens with speech of President. Watch colorful, vibrant opening ceremony. Observe incredible archery contests, wrestling competition for whole day. Another favorite traditional game is ankle bone shooting competition.
In the evening we will check "Ulaanbaatar Night" open stage concert followed by firework displays.
(Hotel B, L, D)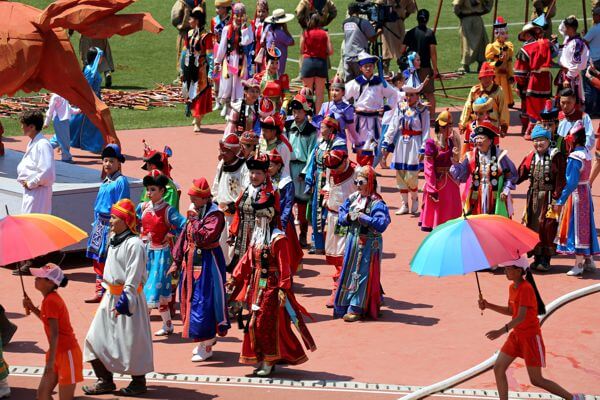 Khui Doloon Khudag: July 12
Today we will head out to see the finish line of the Naadam horse race, the longest horse race on Earth.  Horse racing takes place about 50 km outside of town.  In the afternoon we will see the folklore concert famous of its throat singing. Beautiful cultural show, colorful & rhythmic Mongolian dance, throat singing and admire the contortionists.
After folklore show we will see the Naadam Closing Ceremony at stadium with announcing winners of festival. (time depends on wrestlers).
(Hotel B, L, D)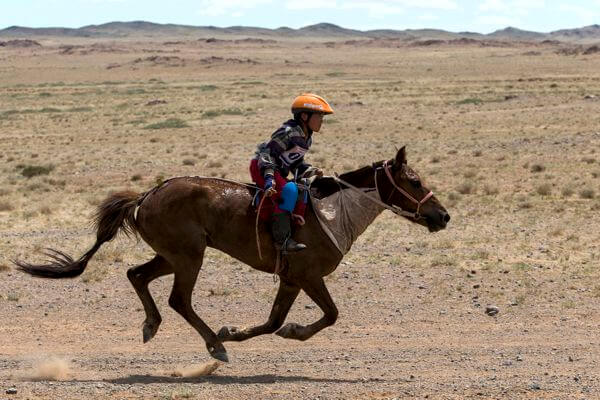 Departure: July 13
Naadam tour ends this morning. You might check out our other group tours which depart this morning to countryside.
(B)